Potatoes. Cheese. And bacon. With these 3, you can't go wrong.Damn Delicious – Slow Cooker Cheesy Bacon Ranch Potatoes 
And when you can throw these in a slow cooker, well that's a double win right there.
Now the hardest part about these is not the prep.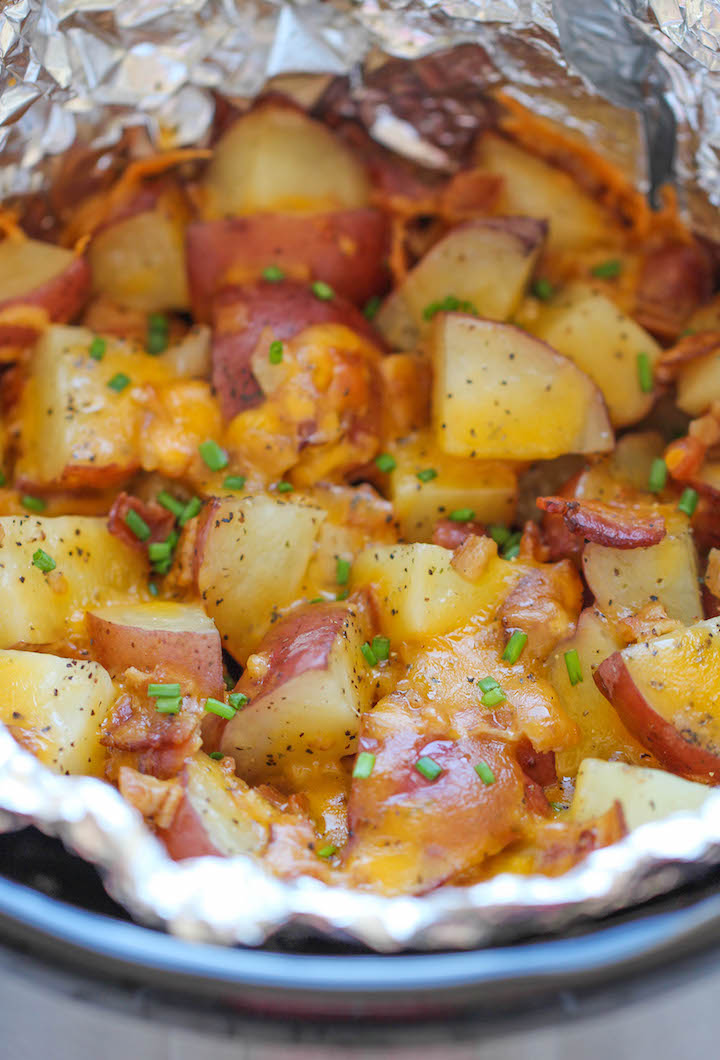 It's the part where you have to hold yourself back before you eat every single perfectly-textured potato chunk smothered in cheesy goodness and crisp bacon bits.
And I really don't even know how to classify this. It could be an appetizer, side dish, snack or an entree.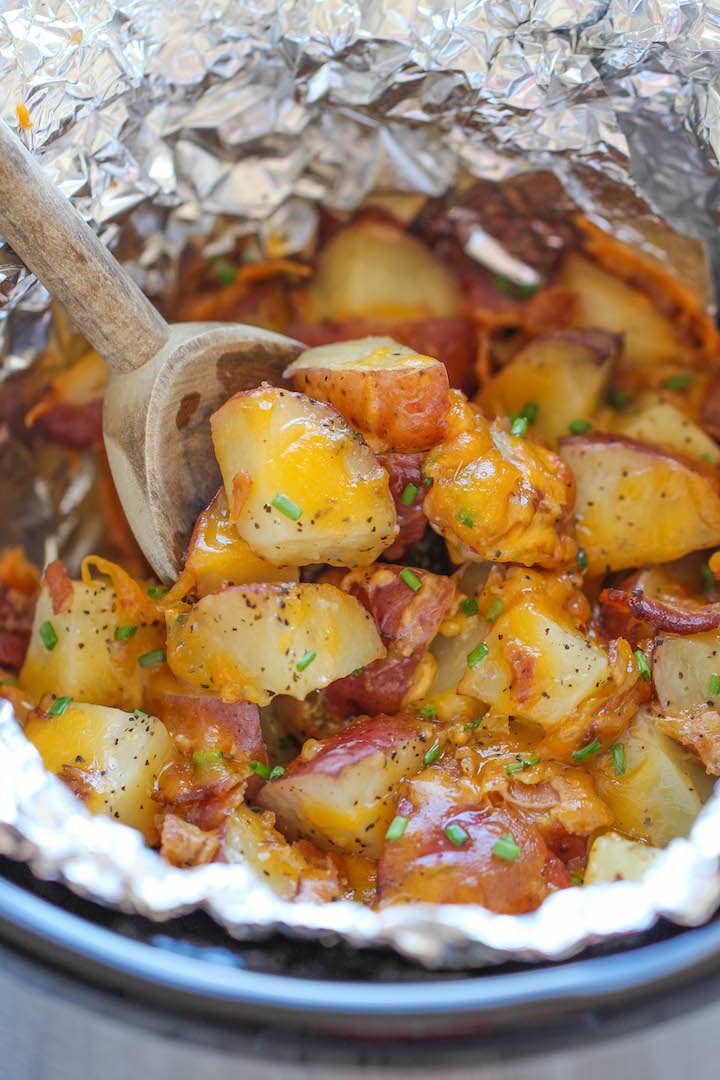 I actually had it as all of the above, and devoured every last potato. And don't think that Jason and I weren't fighting for that last bacon bit at the bottom of the plate!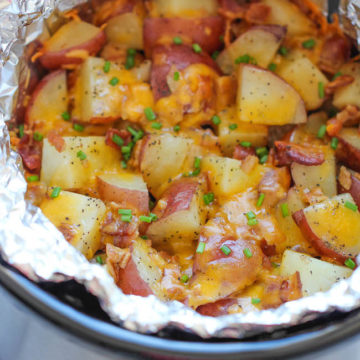 SLOW COOKER CHEESY BACON RANCH POTATOES
yield: 8 SERVINGS
prep time: 15 MINUTES
cook time: 8 HOURS, 15 MINUTES
total time: 8 HOURS, 30 MINUTES
The easiest potatoes you can make right in the crockpot – perfectly tender, flavorful and cheesy!
INGREDIENTS:
6 slices bacon
3 pounds red potatoes, chopped
1 1/2 cups shredded cheddar cheese, divided
2 tablespoons chopped chives
DIRECTIONS:
Preheat oven to 400 degrees. Line a baking sheet with aluminum foil.
Spread bacon in a single layer onto the prepared baking sheet. Place into oven and bake until brown and crispy, about 12-14 minutes. Let cool before crumbling; set aside.
Line a slow cooker with aluminum foil, leaving enough to overhang to wrap the potatoes on top, and coat with nonstick spray. Place a layer of potatoes evenly into the slow cooker. Top with cheese, Ranch Seasoning and bacon, repeating 2 more times and reserving 1/2 cup cheese.
Cover potatoes with aluminum foil. Cover and cook on low heat for 7-8 hours or high heat for 3-4 hours, or until potatoes are tender. Sprinkle with remaining 1/2 cup cheese. Cover and cook until melted, about 1-2 minutes.
Serve immediately, garnished with chives.
NOTES:
Adapted from The Recipe Critic
---
Amount Per Serving
Calories 238.3
Calories from Fat 106.2%
Daily Value
Total Fat 11.8g 18%
Saturated Fat 6.0g 30%
Trans Fat 0g
Cholesterol 29.4mg 10%
Sodium 228.0mg 10%
Total Carbohydrate 26.2g 9%
Dietary Fiber 3.0g12%
Sugars 1.7g
Protein 9.4g 19%
---
*Percent Daily Values are based on a 2,000 calorie diet. Your daily values may be higher or lower depending on your calorie needs.